Next-Generation
ACT at a glance
Immatics is committed to developing its ACTengine® programs with the goal of delivering the potential benefits of its innovative science to cancer patients as soon as possible. At the same time, in order to achieve the best outcomes for cancer patients in the longer term, Immatics strives to enhance the tolerability, potency and ease of use of its product candidates. To accomplish these goals, Immatics has taken the following steps:
ACTallo®
Off-the-shelf Adoptive Cell Therapy
ACTallo® is a process developed by Immatics for the manufacture of allogeneic, off-the-shelf, TCR-engineered cellular therapies derived from healthy donors' gamma delta T cells.
Immatics believes that gamma delta T cells are ideally suited for allogenic Adoptive Cell Therapy approaches because:
gamma delta T cells naturally infiltrate tumors
infiltration by gamma delta T cells has been shown to be the most favorable prognostic factor for patient outcome
gamma delta T cells possess intrinsic antitumor activity and recognize target cells in an HLA/peptide independent fashion, not causing Graft-versus-Host Disease

Immatics has developed a process that allows ex vivo expansion of gamma delta T cells isolated from a single healthy donor to manufacture many ACTallo® doses, which Immatics believes represents an ideal modality for an off-the-shelf approach. Using healthy donor T cells circumvents the need to use T cells from heavily treated or aging cancer patients, thus allogeneic cells are not encumbered by suppressive environments of the patients´ immune system. In addition, products are available immediately for patient treatment without any delays for cellular manufacturing upon enrollment. At the laboratory scale, Immatics has observed that its proprietary manufacturing process could generate hundreds of doses from a single donor. Immatics is currently translating these lessons into larger scale solutions.
At the same time we are also committed to enhancing the potency of our ACT product candidates using several next-generation Technologies.
ACTolog®
Multi-target Cell Therapy Pilot Trial
The ACTolog® approach was designed as the first known multi-target precision immunotherapy. The IMA101-101 first-in-human clinical trial is currently being conducted as a pilot trial to demonstrate safety and feasibility of a multi-target ACT approach.
ACTolog® is based on the principle of endogenous T cell therapy pioneered by Cassian Yee.
ACTolog® T cells are not genetically modified: IMA101 T cell products are generated from peripheral blood cells and are the patient's own T cells, which are applied after ex vivo expansion.
This approach by Cassian Yee is based on the observation that tumor antigen-specific T cells are naturally occurring and can be identified in the peripheral blood of melanoma patients. Despite their natural ability to recognize tumor associated antigens that are presented by tumor cells, these T cells may not become activated and capable to act against cancer, as peptides presented without co-stimulatory signals are only poorly immunogenic. Moreover, their frequency is usually very low. Expanding and activating those naturally occurring T cells allows great flexibility in targeting tumors.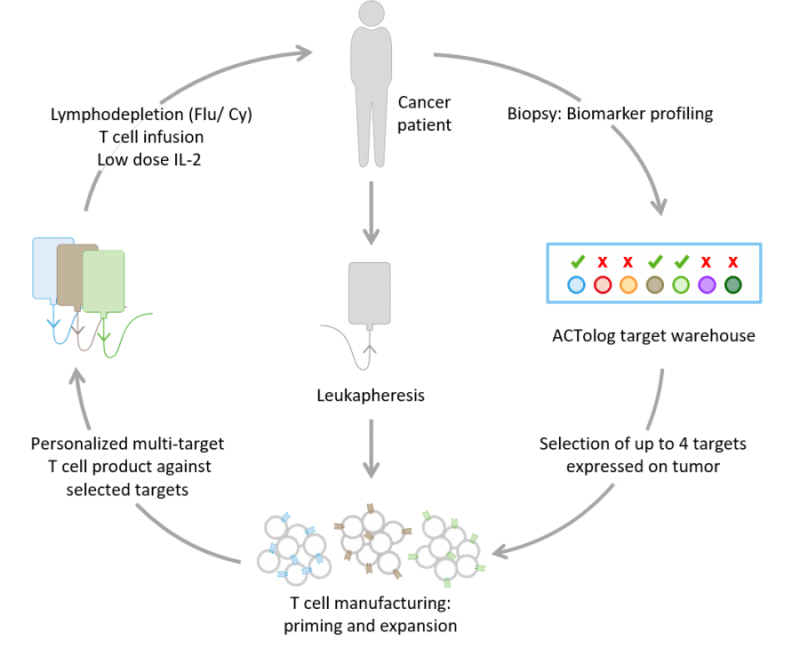 In ACTolog®, this autologous T cell expansion approach is amended to use a warehouse including multiple novel cancer targets discovered by Immatics' target discovery platform XPRESIDENT®. From this target pool, the most suitable targets for each patient's tumor are identified by analyzing their relative presence within a tumor biopsy. Up to four personalized ACTolog® T cell products, each with a defined target specificity, are then manufactured for each patient by isolation, propagation and activation of the patient's endogenous T cells in vitro. Billions of such activated and specific T cells are then re-infused into the cancer patient to fight the tumor. The patient-tailored IMA101 T cell product(s) are infused as single dose after a pre-conditioning lymphodepletion to facilitate engraftment of transferred T cells. Thereafter, patients receive low-dose IL-2 to further improve T cell engraftment and activation.
The ACTolog® pilot trial served as the first proof-of-concept for the feasibility of a personalized multi-target approach. The ACTolog® approach is limited by the properties of the patient's own T cell repertoire (i.e. TCRs with limited affinities). Immatics believes that this limitation can be overcome by a multi-TCR-based ACTengine® approach, which utilizes highly potent and optimized TCRs that may enable significant clinical responses.
Personalized multi-target
ACTengine® and TCR warehouse
With the XPRESIDENT® target discovery platform, Immatics is not only able to identify tumor cell-associated targets, but also innovative targets that are predominantly expressed in tumor stroma. One such stroma-associated target is COL6A3 exon 6, which was selected for the IMA204 ACTengine® program. Immatics believes that targeting the tumor stroma via IMA204 ACTengine® is a promising approach for many solid tumors. This could result in tumor cell death due to tumor cells' dependency on the stroma, could allow endogenous tumor specific T cells to reach the tumor and exert their anti-tumor activity, or could trigger additional local inflammation in the tumor microenvironment
Immatics further aims to extend the impact of immunotherapy through a novel ultra-personalized multi-TCR warehouse approach.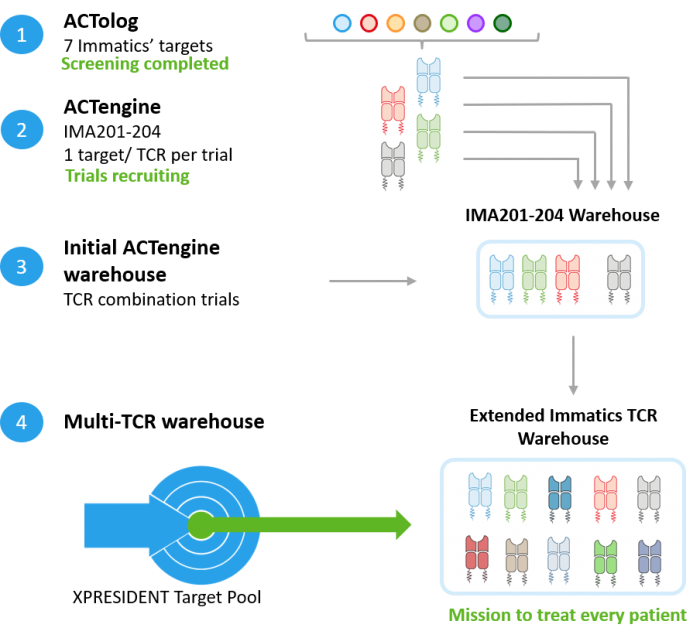 To achieve this, Immatics combines the expertise from the ACTolog® multi-target pilot study with the capability to develop novel engineered TCRs as used in the ACTengine® approach. While developing ACTengine® targets individually, Immatics will take the first step towards multi-TCR-T immunotherapy through combinatorial treatment of patients using anti-tumor and anti-stroma ACTengine® products (IMA201-204). This will enable attacking different compartments of the tumor and its microenvironment through different target classes, thereby aiming to avoid the tumor adjusting to and escaping from a single cancer target attack.
With a portfolio of >200 prioritized cancer targets and the high-throughput capabilities in TCR discovery and characterization, Immatics is well-positioned to build a broad library of TCR product candidates (TCR warehouse) aimed at delivering a pioneering, ultra-personalized cancer treatment. A treatment algorithm to select and deliver multiple TCR-based cell therapy products for any cancer patient will not only expand the treatable patient population, but is designed to ultimately reduce the likelihood for tumors to evade immunotherapy and prolong durability of clinical responses, possibly even resulting in cure.